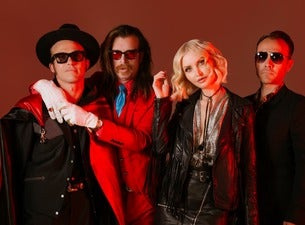 Eagles Of Death Metal
Eagles Of Death Metal ist DIE Garage-Rock-Band aus Amerika. Ihr erstes Live-Album entstand 2003, das es sogar kostenlos auf ihrer Website zum Downloaden gab. Die Rocker kreieren eine durchaus selbstironische Mischung aus Blues, Boogie, klassischem Stonerock, breitem Garagen-Rock-Sound, simplen Gitarrenriffs und präzisem Schlagzeugspiel. Ihre Songtexte sind stets eine humoristische Persiflage auf den klassischen Rock´n Roll-Ethos.

Eagles Of Death Metal-Ticket gibt es bei Nordwest Ticket.
7 Veranstaltungen für Eagles Of Death Metal
Überregionale Veranstaltungen
Eagles Of Death Metal: The 24th Anniversary Tour
Eagles Of Death Metal: The 24th Anniversary Tour
Eagles Of Death Metal: The 24th Anniversary Tour
Eagles Of Death Metal: The 24th Anniversary Tour
Eagles Of Death Metal: The 24th Anniversary Tour