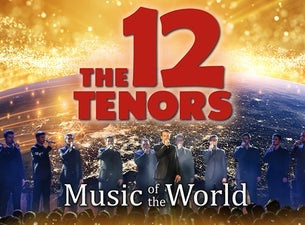 The 12 Tenors
12 Männer, 12 Mikrofone, 22 Welthits.
The 12 Tenors
interpretieren in ihren Medleys die großen Hits von Queen, Michael Jackson und vielen weiteren Superstars und überzeugen mit ihren beeindruckend starken Stimmen und charmanten Einlagen. Die Sänger kommen aus vielen verschiedenen Ländern, können alle eine internationale und professionelle Ausbildung vorweisen. So beeindruckend der Gesang ist, so überzeugend ist auch der Zusammenhalt, den die zwölfköpfige Gruppe auf der Bühne demonstriert.
The 12 Tenors-Tickets gibt es bei Nordwest Ticket.
11 Veranstaltungen für The 12 Tenors
The 12 Tenors - Tour 2024
The 12 Tenors - Music of the World
The 12 Tenors - Music of the World
The 12 Tenors - Music of the World
The 12 Tenors - Music of the World
Überregionale Veranstaltungen
The 12 Tenors - Music of the World
The 12 Tenors - Music of the World
The 12 Tenors - Music of the World
The 12 Tenors - Music of the World
The 12 Tenors - Music of the World
The 12 Tenors - Music of the World